HSS Twist Drill Bits: Operating Instruction
HSS Drill Bits Information
1. Raw material: HSS4241,HSS 6542,HSS M35 with 5% Cobalt
2. Surface finish: Black, Bright, TiN
3. Technology: Roll-edged, Fully ground
4. Standard: DIN338,DIN340,DIN1897
5. Shank: Straight ,Taper Shank
6. Cutting angle: 118º Standard Point. 135º Split Point.
118º Standard Point (crankshaft point)
Split point is self-centering and reduces need for end thrust. Friction at workpiece is reduced.
118º point angles are ideal for use in materials such as mild steel and cast iron.
The 118º point creates easily controlled chips which are wide and thin.
135º Split Point (crankshaft point)
Split point is self-centering and the short distance from the drill axis to the outer corners results in faster penetration, reducing end thrust.
The 135º point should be used to cut harder steel materials especially in deep hole applications. In these situations, it will produce thicker chips minimizing work hardening of the cavity. Faster penetration reduces abrasion and friction along the cutting edges.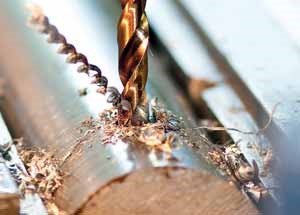 Working Conditions
▶ Incorrect technical working conditions frequently lead to breakage of the drill bit or to premature wear of the drilling tool.
▶ Our speed table gives recommendations on cutting speeds and feed rates.
▶-Depending on the actual working conditions it may, however, be necessary to determine individual cutting values by means of tests.
▶-The cutting values should be reduced by 20 to 40 percent for horizontal holes and for drilling depths which are
DO NOT OVERHEAT DRILL BIT
▶ High-alloy and heat-resistant materials can only be properly cut with the use of coolants, with special cutting oils forming a tightly adhering lubricating film in the cutting zone.
▶ A cooling emulsion is usually sufficient for normal steel or materials with a low tendency to adhesion. Materials forming short chips, such as brass and cast iron, but also plastics, should be machined without coolant.
▶ The drill must be briefly lifted off from time to time so that the coolant can be penetrate properly into the hole.
▶ In particular, this must be observed for holes which are three times deeper than the diameter (3 x ø). This also ensures that the flutes can clear out the chips
Correct RE-Grinding
▶ The correct tip grind of a drill bit is the basic condition for economic drilling. Thus timely re-grinding and, in particular, grinding to the correct shape of the cutting edges is essential for uninterrupted production.
▶ GREETOOLS recommends re-grinding with one of the tip grinding machines for twist drill bits available in the market, as only these machines ensure the setup for optimum re-grinding of the main cutters, cutter corners, land and chisel edges.
▶ Manual regrinding is not recommended as this is too imprecise, leads to early nonrecoverable wear of the drill bits and does not allow accurate holes to be drilled.
Lubrication may well be required especially if you are drilling something thicker than the diameter of the bit, and always on stainless steel. Speed is another key factor for drilling metal. Take a look at the chart below for a guide. If your power drill does not have a variable speed control a good way is to intermittently pull the trigger on and off. This will give it a chance to slow and reach an optimum speed.
If you are drilling a deep hole of into thick material you will need to remove the bit from the hole occasionally to allow any swarf to be removed from the hole.
Drilling Speeds
| | | |
| --- | --- | --- |
| Diameter of Drill Bit | Steel | Aluminum |
| 3mm | 1820 rpm | 2580 rpm |
| 4mm | 1350 rpm | 2580 rpm |
| 5mm | 1290 rpm | 2580 rpm |
| 6mm | 970 rpm | 2580 rpm |
| 7mm | 830 rpm | 2580 rpm |
| 8mm | 830 rpm | 2580 rpm |
| 9mm | 500 rpm | 1820 rpm |
| 10mm | 500 rpm | 1820 rpm |
| 11mm | 500 rpm | 1820 rpm |
| 12mm | 420 rpm | 1820 rpm |
| 13mm | 420 rpm | 1350 rpm |
| 14mm | 420 rpm | 1350 rpm |
| 15mm | 320 rpm | 1290 rpm |
| 16mm | 320 rpm | 1290 rpm |
Use these as a basic guideline for twist drills. Your power drills handbook should have the settings for speeds listed assuming it is variable speed.
For Stainless steel use a slower speed than recommended for steel.
It is essential not to run a drill too fast on stainless steel as it will heat up easily and become hard, making it very difficult to drill.
Let the bit do the cutting, not pressure. Apply just enough pressure for the bit to work, any more than that and you are dulling the cutting edge of the bit. It sounds simple, but most people don't do it.
REMARKS
As always at Greetools we advise the use of purpose built tools for DIY use. Safety must always come first , Wear the appropriate safety equipment, gloves, dust masks and eye protection.
LEGAL NOTE
Greetools does not accept any responsibility for the instructions stored here. Greetools would also like to point out that you follow these instructions at your own risk, For your own safety, Please take all the necessary precautions.